Family of God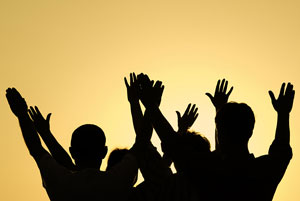 In Jesus Christ we discover what it means to be born into the family of God. Our spiritual family may or may not include those from our family of origin. We all hope and pray that it does. But only God knows who will accept His Son Jesus Christ and receive the right to become His children. In fact, Jesus said that some people are children of the devil.
Contrary to popular opinion, not all people are children of God. Yes, we were created by Him. But that doesn't mean we've chosen to belong to Him. Of course, I'm talking about adults who are able to make that decision. Jesus told Nicodemus — a religious leader — even he must be born again to become a child of God. Once that happens, we become brothers and sisters in Christ, and co-heirs of God Most High.
As Christians, our eternal family are those born again in Jesus Christ. Those gone before us are already in our spiritual family on an eternal basis. Paul writes that we are preceded by a "great cloud of witnesses." The faith of Abraham, Isaac and Moses along with all the saints testifies to the sovereign glory of God in His Son Jesus Christ. We who believe are eternally speaking already with these saints in context of eternal glory. We belong to the same spiritual family.
So our family of God involves whomever we link spiritual arms with on this side of eternity. And it depends upon whether or not we have accepted Jesus Christ into our heart and made Him Lord and Savior of our life. This is the time and place to make that decision forever. There are no second chances after we die.
To God be the glory.
© Thomas Isaac Berscheid
August 14, 2011 all rights reserved